Recycled Note Pads With Sticky Notes and Flags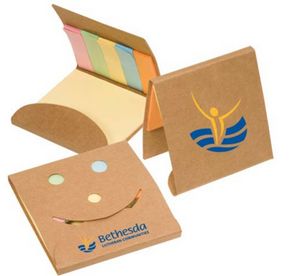 Austin, TX: Promote your brand and logo with this new recycled, eco friendly note holder with sticky notes and flags. Top folds down for easy storage.
It measures3″ x 3″ and is ideal for trade shows, gift with purchase, Earth Day promotions, or thank you gifts.
Customers appreciate eco-friendly gifts and these recycled note pads are an effective marketing tool for your organization.
Priced under $2.00 including your custom imprint, they are available from Eco Marketing Solutions or at their website, EcoMarketingSolutions.com