New Flexible Lay-Flat Water Bottle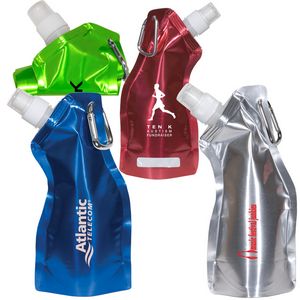 Austin, Texas: Eco Marketing Solutions has just introduced their newest lay flat water bottle, named Flexi-Bottle.
This curvy flexible bottle is  made from ultra lightweight BPA free plastic, holds 13.5 oz. and is made of metallic mylar…and it features your logo and imprint.
It is foldable for easy storage. Features push/pull drink spout with removable cap and handy carabiner. Dishwasher safe and BPA-Free.
Size: 4 1/4″ x 9″ flat.
Color Options: Metallic Blue, Metallic Lime Green, Metallic Red and Silver.
Perfect for backpacks, school lunch bags, purses and more.
These flexible, lay flat bottles are available online at EcoMarketingSolutions.com from Eco Marketing Solutions.