Organic Seed Paper Ornament: New Leaf Shape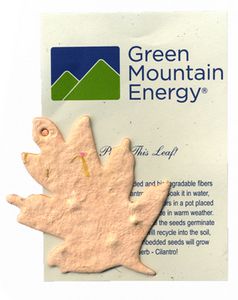 Austin, Texas: Eco Marketing Solutions is proud to introduce their newest seeded paper shape–a leaf.
Just soak in water and plant to grow a mini cilantro garden, as the handmade paper is embedded with flower seeds.
Ideal for Earth Day, Arbor Day and any paper-saving promotion or outreach program.
Your custom imprint, logo and message are printed on a handy instruction sheet which comes packed with each seeded leaf.  Priced at about a buck wholesale in quantity.
Click here to learn more about the seeded paper shapes or visit the Eco Marketing Solutions website.
Available exclusively from Eco Marketing Solutions, a leader in eco-friendly promotional products.