Mini Recycle Bin Pencil Holder- Perfect for Earth Day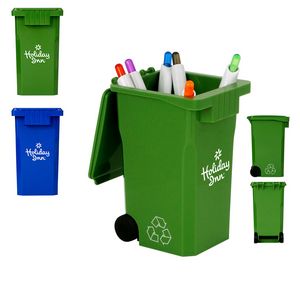 Eco Marketing Solutions has just introduced a new gift–perfect for recyclers, trash haulers and other businesses trying to push the 3Rs: Reduce, Reuse and Recycle– recycle bin pencil holder.
This fun and useful eco-friendly promotional item stands about 5″ tall, and features a hinged lid and wheels–making it the perfect pen holder.
These promotional recycle bin pencil holder are ideal for trade shows and outreach gifts–or as holiday gifts, if you fill it with mints or chocolates.
About $2 wholesale imprinted with your logo–this recycle bin pencil caddy is available exclusively from Eco Marketing Solutions or EcoMarketingSolutions.com